Samosas
This recipe in recipes section
|
Comments on this recipe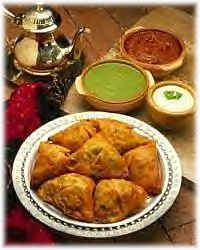 Ingredients:
1 cup white four
1-1/2 cup whole wheat flour
Clarified butter (Ghee) for frying
1 Onion, finely chopped
1 Tablespoon ginger, very finely chopped
1 Cup ground meat
2 Tablespoon peas
1 Teaspoon freshly ground coriander powder
1 teaspoon freshly cumin
1-1/2 teaspoon Garam Masala
1 Tablespoon fresh Cilantro, chopped
1 large potato, boiled, peeled and mashed
2 teaspoon lemon juice
Salt to taste
Method:
Sieve the flour with a pinch of salt. Work in 2 Tablespoon of the butter, then add enough water (about 3 Tablespoon) to make smooth dough. Knead for a few minutes, cover with a damp cloth and set aside.
Fry the onions in 2 Tablespoon butter. Next, stir in the ginger, ground meat, peas, spices, and salt to taste. Fry for two minutes. Add the potato and lemon juice, and fry for a few minutes more. Cool this mixture.
Meanwhile, knead the dough again, divide it into small balls, and roll each one out until it is quite thin. Cut the pieces in half and lay one part on top of the other. Presses lightly, then roll the pieces into very thin semicircles. Put a portion of the filling on one half of each pastry piece, moisten the edges with water, and fold the other half over. Press the edges together well with a fork, then deep-fry in butter until crisp and golden. Serve warm, with mint chutney or lemon pickle.
Dahi Baray
This recipe in recipes section
|
Comments on this recipe
Ingredients:
2 cups dal maash dhuli (white)
Presoaked for 4-5 hours
Pinch of baking soda
1/2 teaspoon salt
Pinch of heeng
Method:
Grind the presoaked dal into a paste and add rest of the spices.
Mix well and leave for 30 minutes.
Then in a frying pan add 1 tbs. of oil and with the help of a spoon drop into the pan flat rounded patties and shallow fry till light brown.
DO NOT TURN OVER TO FRY OTHER SIDE.
Meanwhile heat oil for deep frying and then deep fry.
When golden brown remove and cool.
When serving, soak in a bowl of water and when a little soft squeeze out the water between palms and add to prepared yogurt.
YOGURT: Beat the yogurt adding a little water to a paste.
Add salt, red chili powder and 1/2 tsp. zeera powder.
Garnish with sweet Imli Chutney and Chat Masala.
Ras Malai
This recipe in recipes section
|
Comments on this recipe
Ingredients:
32 oz ricotta cheese (or an equivalent amt of freshly made Paneer)
10 oz powdered Confectioner's sugar
2 small packets Half and Half
1 tsp powdered cardamom
1/2 tsp rose water
2 tsp slivered almonds
2 tsp chopped pistachios
6 cups water
3 cups sugar
Method:
Add a little butter to a frying pan and heat to coat the pan.
Roast cashew nuts until golden brown and add the raisins to the pan for a few seconds. Remove the cashews and raisins and keep aside. Grate the carrots and add to the pan. Add half and half, and heat for about an hour, starting with high heat, stirring, and lowering the heat after the mixture starts boiling. Heat until almost dry. Add sugar, mix, and continue to cook until damp/dry.
Remove from stove and add cashews and raisins and cardamoms.
Have fun!
The original author of this article is Mariam Qureshi and was published in PakiRecipes.com on Dec 3rd, 2000 (issue:5)