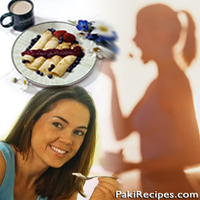 People often fail on weight-loss diets because they get bored with "diet food." Are you one of those people who think that "diet" means deprivation? Do you think that going "on" a diet means "diet boot camp." You force yourself to eat tasteless, bland food, and when you go "off" the diet, maybe you go crazy! You eat everything in sight because, hey, now you're off the diet!

Well, oh well. You know that if you return to your old habits, you'll gain the weight back sooner than you can say, "supersize me." It's time to make all your "diet dinners" delicious, and keep your weight loss permanent.The true meaning of "diet" is your usual intake, what you usually eat, so make your usual diet a healthy one, and stay slim forever. It's not necessary to spend hours in the kitchen preparing elaborate recipes. I enjoy delicious but lower-calorie foods, and I'm smart about how my foods are prepared, so I'm satisfied.



Quick, Easy and Delicious Dinners





1. Meat & Potatoes:


It's all in the portion size. You can have a steak as long as it's sized to meet your portion needs, and it's prepared right. Choose your favorite meat, chicken or turkey breast, or a fish steak like salmon, tuna. I love a "meaty" fillet of fish. While you preheat the broiler, spray two pans with cooking spray; prepare meat (or poultry or fish); rinse and pat dry; brush with olive oil or a low-fat bottled marinade; sprinkle with pepper and a little salt (optional).

Scrub and prick a baking potato or sweet potato, and microwave on a damp paper towel on high for 5 minutes; turn and continue another 5 minutes. Split potato and place on baking pan and spray lightly with cooking spray. Broil meat and potatoes until potatoes are lightly brown and meat is done. (Meat and poultry should be cooked through, about 12 to 15 minutes; fish takes about 10 minutes per inch of thickness).



2. Salad and Salmon:


Who says quick meals can't be delicious? In a big bowl, mix pre-washed greens and baby spinach; add sliced red onion and cherry tomatoes, quartered, plus a can of artichoke hearts packed in water that you've drained and quartered; add a can of drained wild salmon (or sardines or tuna). Dress with your low-cal dressing of choice, or whisk up 1 tablespoon olive oil with 1/4 cup of balsamic vinegar and 1 tablespoon of fresh lime juice. Serve with toasted whole wheat pita bread.



3. Baked chicken, rice and green beans:


Our grocery stores have dozens of quick products, making fresh meal prep a breeze! It's easier than ordering out, and so much cheaper. Rinse and pat dry skinless chicken breasts, and place in a glass baking dish sprayed with cooking spray. Pour over the chicken a cup of orange juice mixed with a teaspoon of honey, 1/8 teaspoon of cayenne pepper, and 1/8 teaspoon each of dried thyme and oregano; bake for approximately 20 minutes in a 350 degree oven. While the chicken is cooking prepare instant brown rice and microwave frozen green beans. When done, serve with butter granules and black pepper.



4. Stay motivated:


By adopting as permanent the lifestyle habits associated with this meal plan. Eating smaller meals more frequently means avoiding blood glucose swings associated with refined, simple carbs. One of my favorites is Cheesy Chili (this recipe serves one). Instant brown rice makes a perfect accompaniment.



Ingredients


4 oz. of lean, ground round beef or ground turkey breast: If you want to go veggie, use tofu meat crumbles
2/3 tbsp. olive oil
1/4 cup chopped onion
1/4 cup chopped bell pepper
1/2 cup canned kidney beans, rinsed and drained
1/4 tsp. garlic powder
1/4 tsp. cumin
1/2 tsp. chili powder
1/2 cup canned, crushed tomatoes, low-sodium
1/2 oz. low-fat or nonfat shredded cheese



Directions


Heat oil in a skillet to medium high. Crumble beef or turkey breast into skillet and saute until browned; add onions and pepper and cook two to three more minutes. Stir in beans, spices and canned tomatoes with their liquid. Lower heat and simmer 10 to 12 minutes, stirring occasionally. Serve topped with shredded cheese and brown rice.



5. My Favorite Frittata:


Preheat broiler. Saute a small diced onion and a minced clove of garlic in a tablespoon of olive oil in a nonstick pan with ovenproof handle. Add sliced and diced portabella (any variety will do!) mushrooms and a cook a few minutes, then add a half-bag of pre-washed baby spinach. Cook until liquid evaporates, about three minutes. Beat lightly two egg whites and one whole eggs with 1/4 cup of low-fat buttermilk and season with pepper and optional salt. Add egg mixture to vegetables, and cook until set. Sprinkle the frittata with 1/2 oz. of low-fat cheddar or jack cheese, and place pan under the broiler until lightly browned. Enjoy for a light dinner with a green salad and toasted whole-wheat pita chips.
Author
bestchefs
Expert & Contributor

Joined: 10 Aug 2006
Articles: 6
Comments: 2
Location: LosAngeles--California
Author
Comments

No comments were made for this article



All times are GMT - 5 Hours





You cannot post articles in this category
You cannot edit your articles in this category
You cannot delete your articles in this category
You can rate articles in this category

You cannot post comments in this category
You cannot edit your comments in this category
You cannot delete your comments in this category
You cannot rate comments in this category