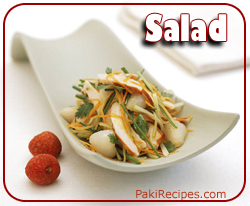 Summer or winter, salads add a note of garden freshness and an element of easy sophistication to mealtime. Salad now a days, has assumed a high priority as well as first place on the menu. We are still inclined to prefer it in its traditional location between main entrée and desert, mainly because a green salad makes a clean break between meat and sweet.

All salads were once light salads, edible part of various herbs and plants, seasoned solely with salt. They are also a mainstay of the dieters repertoire, providing lots of bulk and good flavors with very few calories. Instead of using fatty dressing, one can use sprinkle of lemon juice, a touch of spiced vinegar, or at most, a low calorie or fat free dressing.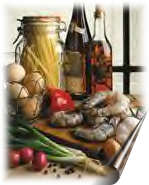 Salads mean all sorts of combinations of chilled fruits, vegetables, herbs, meat, cheese, fish - even pasta, cereals with some kind of dressing.
Salad ingredients prepared long in advance suffer a loss of nutritive value, and arrive at the table looking disappointingly limp. Take care in washing, not to bruise them; see that they are well chilled, crisp and especially dry. it is usually to tear them rather than cut greens, except iceberg lettuce, which if you desire smaller pieces or cubes, can be sliced or shredded.



Preparing Salad Greens:
To prepare lettuce, separate the leaves, wash them, thoroughly.
Dry greens, by letting them drip in a colander, wrapping them lightly in a soft absorbent towel until dry. Use a spinner, if available.
Some salads require time to marinate, others maybe served immediately. Unless indicated, salads are best served at room temperature.
Garden Delight:
Ingredients:
1/2 cup chopped Onion
1/2 cup chopped Tomato
1/2 cup chopped Cucumber
1/2 cup chopped Carrots
1/2 cup chopped Lettuce
1/2 cup chopped Cabbage
1/2 cup chopped Radish
2 Tablespoons chopped Coriander leaves
5 green Chilies
1 cup Vinegar
Salt to taste

For seasoning:
1 teaspoon Mustard seeds
1 sprig Curry leave

Mix together all the vegetables. Make a coarse paste of the coriander leaves and green chilies. Mix it with the vegetables. Add salt to taste. Prepare the seasoning and add to the vegetables. Add vinegar just before serving and mix together.

Raita:
Ingredients:
I cup plain Yogurt
1 cup Sour cream
3 Cucumbers, seeded and chopped
1 Tomato, seeded and chopped
1 teaspoon ground Cumin
1/2 teaspoon Paprika
4 cloves crushed Garlic
Salt and Pepper to taste

In a salad bowl, whisk together the yogurt, sour cream, cumin, paprika, and garlic. Add cucumbers and tomato. Toss or chill before servings.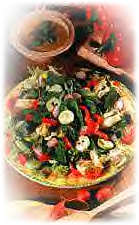 Stuffed Tomato Salad:
Ingredients:
4 large Tomatoes
1/2 lb fresh shrimps, cooked, peeled and finely chopped
1 Tablespoon chopped fresh Parsley
1 Celery stalk, finely chopped
3 Tablespoons Mayonnaise
1 teaspoon Mustard
1 bunch Watercress, washed and dried
Salt and Pepper
Lemon Juice to taste

Core tomatoes, and slice off tops. Scoop out most of the flesh and save for other uses. Season inside tomatoes well. Place shrimps, parsley, and celery in a bowl. Add mayonnaise and mustard; mix well. Season and add lemon juice to taste. Stuff tomatoes with shrimp salad. Place tomatoes on serving platter or dinner plates and surround with watercress. Drizzle vinaigrette over watercress and serve.
Fruit Salad:
Ingredients: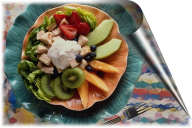 2 Apples, cut
3 Pears, cut
1 Orange, cut
Seedless grapes, cut in halves
1 can Pineapple, cubed
2 Peaches, cut
2 Bananas, sliced
1/2 cup Sugar optional
Non dairy whipped topping

Mix apples, pears, orange, grapes, pineapple, peaches and sugar together. Top fruit salad with non-dairy whipped topping then with sliced bananas. Serve Chilled.
Dressings:
Ingredients: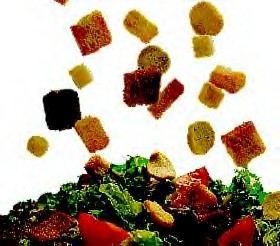 2 Tablespoons of white/red vinegar
6 Tablespoons of Olive oil
1 teaspoon fresh Parsley, chopped
1 teaspoon fresh chives, chopped
Salt and freshly ground Pepper

Place vinegar in bowl. Add salt and pepper. Add oil and which to incorporate. Add herbs if using and mix well. Correct seasoning and serve.
Use this vinaigrette over green salads.
Salads are a wonderful way to express your creativity. So use the recipes as your guide to a fresh look at salads. And enjoy!




The original author of this article is Mariam Qureshi and was published in PakiRecipes.com on Jan 7, 2001 (issue:10)
Author
NawedKhan
Administrator

Joined: 01 Aug 2006
Articles: 16
Comments: 16777194
Location: Dallas, TX, USA
Author
Comments

No comments were made for this article



All times are GMT - 5 Hours





You cannot post articles in this category
You cannot edit your articles in this category
You cannot delete your articles in this category
You can rate articles in this category

You cannot post comments in this category
You cannot edit your comments in this category
You cannot delete your comments in this category
You cannot rate comments in this category