Ramadan is the ninth month of the Muslim calendar. It is during this month that Muslims observe the Fast of Ramadan. Lasting for the entire month, Muslims fast during the daylight hours and in the evening eat small meals and visit with friends and family. It is a time of worship and contemplation. A time to strengthen family and community ties. Since Ramadan emphasizes community aspects and everyone eats dinner at the same time, Muslims often invite one another to share in the Ramadan evening meal.

Pakora / Deep-fried Vegetables
Ingredients

For batter:
1 cup all-purpose flour1/2 cup plain yogurtPinch of baking powder1 small clove garlic, mincedSalt to tasteChili powder to taste

Vegetables to choose from:
Potatoes, thinly sliced
Yams/sweet potatoes, thinly sliced
Eggplant, thinly sliced
Onions, sliced
Add whatever, your heart desires

Combine all batter ingredients and let 10-15 minutes.
Heat oil for deep-frying.
When the oil is hot dip the vegetables in the batter to coat and gently lower them into the oil.
Fry until golden on both sides.
Remove with a slotted spoon and drain on a paper towel.
Serve with chutney or catsup.

Cholay

Ingredients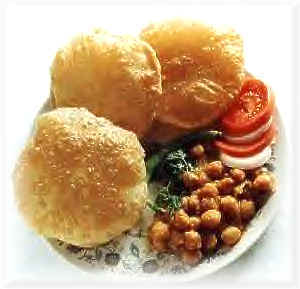 2 15 Oz. Cans of Chick peas
1 Large Potato
2 Tablespoon Coriander leaves
2 green chilies
2 Tablespoon Chat Masala
3 Tablespoon Imli Chutney
1/4 Medium Onion
1 Medium Tomato
Salt to taste
Boil the potato until its soft.
Skin and cube.
Drain and wash the Chick Peas.
Dice the onion, tomato, green chilies and coriander leaves.
Add everything to a large bowl and mix thoroughly.
You may want to add more chat masala/imli chutney depending upon your taste.
Imli (tamarind) chutney
Ingredients
3 tablespoons dried tamarind pulp
1 cup hot water
1 teaspoon salt
2 teaspoons black or brown sugar
1 teaspoon ground cumin
Half teaspoon ground fennel
2 teaspoons finely grated fresh ginger
Lemon juice to taste
Pinch chili powder, optional
Put tamarind pulp in a bowl with hot water and allow to soak until water is cool. Knead and squeeze pulp away from the seeds. until it is dissolved in the water, then strain through a fine nylon sieve, pushing all the pulp through. If necessary, add a little more water to assist in getting all the pulp from the seeds. Add salt, sugar and other ingredients to the tamarind and stir to mix well. Taste and add more salt if necessary, lemon juice to sharpen the flavor and if liked, a small pinch of chili powder.
Gulab Jaman
Ingredients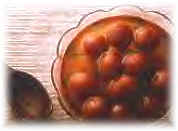 2 1/2 Tablespoon Flour
1 cup Sugar
5 Tablespoon Ghee for deep frying
1 cup Dry milk powder
1/8 teaspoon Baking soda
1/2 teaspoon Cardamom powder
Water As required
Crushed almonds For garnishing
Take milk powder in a bowl. Add melted Ghee to it and mix very well with hands.
Add flour, baking soda, cardamom powder and mix again.
Now add 3 Tbsp. of very cold water and knead with hands until smooth dough is formed.
Make small balls of this dough (about 3/4 inches in diameter) and leave for some time. Take sugar in another pan, add equal amount of water and boil for some time (prepare like sheera). Deep-fry all prepared balls (Gulab Jaman) until they become brown.
Place them in sugar solution (sheera).
Dish out and garnish with crushed almonds. They are now ready to be served.
Enjoy and may all have a Happy, Joyous and Blessed Ramadan!
The original author of this article is Mariam Qureshi and was published in PakiRecipes.com on Nov 27, 2000 (issue:4)